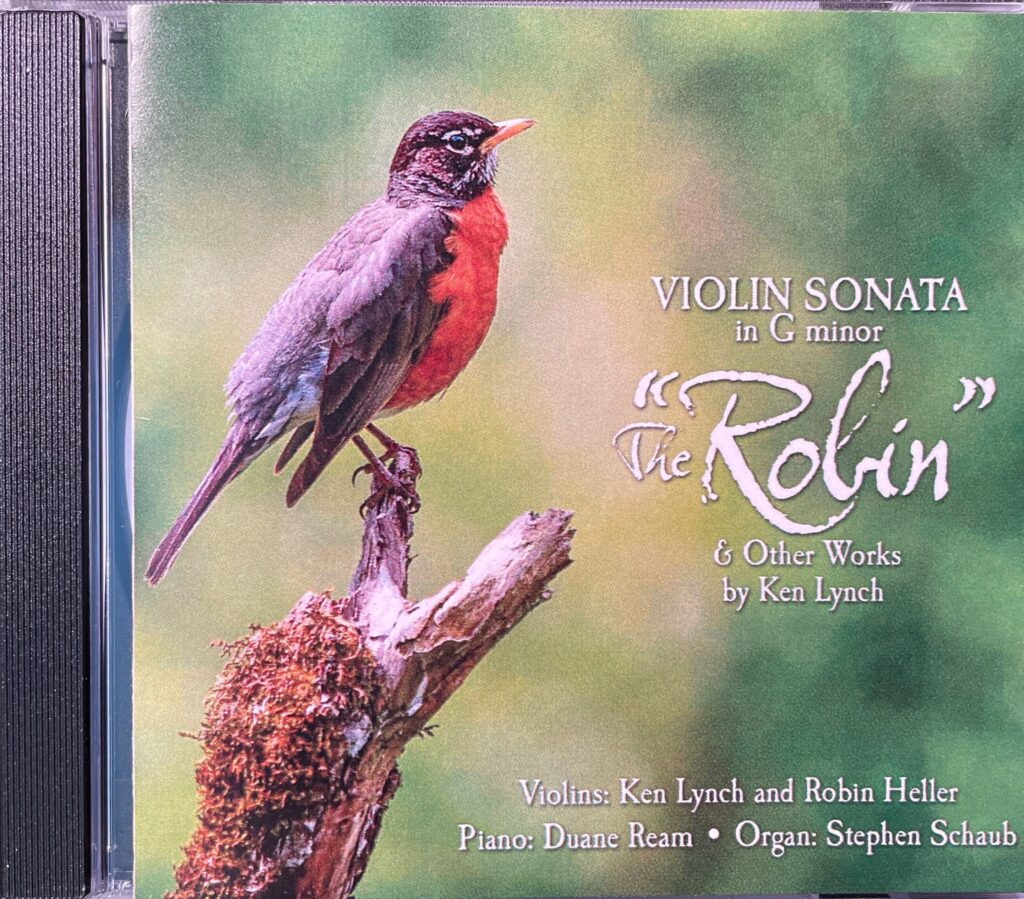 Violin Sonata in G minor "The Robin" and other original classical works for violin and piano by Ken Lynch.
$15.00 (includes postage)

"Make Me A Blessing" $15.00 (includes postage)
30 arrangements includes violin, vibraharp, Clavinova, bandura and musical glasses: A Mighty Fortress; Jesus, Saviour, Pilot Me; 'Tios So Sweet to Trust In Jesus; Steal Away; Redeemed; Victory In Jesus; I Need Thee Every Hour; Make Me a Blessing; Since He Rent The Vail In Two; Calvary Medley; Hallelujah for the Cross; Jesus Loves Even Me; Open My Eyes; Sweet Hour of Prayer; Near to the Heart Of God; Under His Wings; Majestic Sweetness; Come Thou Fount; I Know Whom I Have Believed; My Father Planned It All; Guide Me O Thou Great Jehovah; When I Survey; The Old Rugged Cross; He Leadeth Me; Beyond The Sunset; Sooner or Later; When He Shall Come; The Lights of Home; In the Sweet By and By; My Saviour First of All.
"Sacred Stylings" $15.00 (includes postage)
17 arrangements for violin solo, duets and piano: Amazing Grace; Are You Washed?; I Sing The Mighty Power of God; Joyful! Joyful!; Revive Us Again; Power In the Blood; Sweet Hour of Prayer; Wonderful Words Of Life; Take My Life; Jesus Saves; O Worship the King; Jesus Is All the World To Me; My Jesus, I Love Thee; Alas and Did My Saviour Bleed?; Jesus Led Me All the Way; What a Friend We Have In Jesus; I Gave My Life for Thee.
"This Is My Father's World" $15.00 (includes postage)
25 arrangements on the violin, musical glasses, vibraharp, Clavinova and bandura: This Is My Father's World; Higher Ground; O For A Thousand Tongues; Let Us Break Bread Together; Hark, Ten Thousand Harps and Voices; Rejoice the Lord Is King; He Included Me; Jesus Is Coming; My Faith Looks Up To Thee; Sweeter As The Years Go By; A Name I Highly Treasure; Look and Live; Leaning On the Everlasting Arms; The Old Account; I Am His and He Is Mine; I Must Tell Jesus; Awakening Chorus; All Hail the Power; Nobody Knows; I Am Thine O Lord; The Great Physician; Come Thou Fount; Satisfied; Sun Of My Soul; It Is Well With My Soul.
"Keyboard Favorites" $15.00 (includes postage)
29 arrangements on the Yamaha Clavinova and Vibraharp: Beneath the Cross Jesus (setting of Bach's Prelude in C); The Beautiful Garden of Prayer; Whispering Hope; Spirit of God, Descend Upon
My Heart; Eternal Father, Strong to Save; Under His Wings; Stand Up for Jesus; More Love to Thee; Nearer, Still Nearer; When the Roll Is Called Up (Medley); Tell Me the Old, Old Story; I Sing the Mighty Power of God; Though Your Sins Be As Scarlet; Come, Christians, Join to Sing; Lead Me to Calvary; My Hope Is In the Lord; Come Thou Fount; In the Image of God; I Will Sing of My Redeemer; In the Sweet By and By; Praise to the Lord, the Almighty; O Jesus, Thou Art Standing; We Have An Anchor; My Anchor Holds; O For a Thousand Tongues; Praise Him! Praise Him!; Walking In Sunlight; Jesu, Joy of Man's Desiring; Jesus, I Come.
"Christmas In Crystal" $15.00 (includes postage)
19 beautiful carols performed on the Musical Glasses: Joy to the World; Silent Night; Away in a Manger; Christmas Praise; O Sanctissima; While By Our Sheep; There's A Song in the Air; While Shepherds Watched Their Flocks; As With Gladness Men of Old; It Came Upon a Midnight Clear; In a Cave; God Rest Ye Merry Gentlemen; We Three Kings; In the Bleak Midwinter; Good Christian Men, Rejoice; Infant Holy, Infant Lowly; Come With Me Ye Children; Gentle Mary Laid Her Child; Angels We Have Heard on High.
"O, Sing Unto the Lord a New Song" $15.00 (includes postage)
21 original songs performed by the singers and choir of Ambassador Baptist College, Lattimore, NC: I Sing the Wondrous Love of Jesus; A Thankful Heart; Sing Praise to God All Lands; Happy to be a Christian; Jesus Is Coming; Glory! Glory to Our God; Teach Me Lord; Christmas Praise; This Precious Friend; The Mighty Church of Christ; It Was For Me; As I Want to Be; Grace for Pardon, Rest and Hope; God's Comforting Spirit; Christ My Blessed Joy; When Jesus Comes; God Knows; The Ministry of Prayer; Trust in the Lord; Precious Name Medley; Lord, Send a Revival.
"I Will Praise Him" $15.00 (includes postage)
20 arrangements featuring the violin and bandura. Piano accompaniment by Glenn Christianson. Includes: Come Thou Fount; Follow On; I Will Praise Him; Hallelujah, 'Tis Done; He Hideth My Soul; He Ransomed Me; Be Thou My Vision; Jesus, I Am Resting, Resting; Nearer My God To Thee; He the Pearly Gates Will Open; Leaning On the Everlasting Arms; No, Never Alone; Overshadowed; Bring Them In; Springs of Living Water; Only a Sinner; So Send I You; When the Roll Is Called Up Yonder; All Hail the Pow'r of Jesus' Name; To God Be the Glory.